For over four decades, Duke Robillard has been one of the most respected blues and roots music guitarists working today.
This release shows endless creativity in bringing new ideas to blues forms. Fellow New England guitar hero Monster Mike Welch is an important contributor providing Duke with a daredevil foil on all tracks.
Duke has worked with Bob Dylan, Tom Waits, Roomful Of Blues, Fabulous Thunderbirds and dozens of blues legends.
---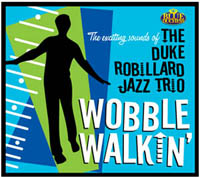 Our virgin Blue Duchess release will be The Duke Robillard Jazz Trio's WOBBLE WALKIN' Duke's take on guitar jazz.
From the blues to swing era standards and original compositions this is a joyfully swinging set of tunes featuring Duke's ever tasteful guitar and the conversational interplay between bassist Brad Hallen and Mark Teixeira.
A must for fans of swinging bluesy guitar!
>>> Just in from criticaljazz.com: Wobble Walkin' is Duke Robillard's finest release in over a decade and an absolute must for the collector!
ORDER NOW! $15.00 includes shipping!
---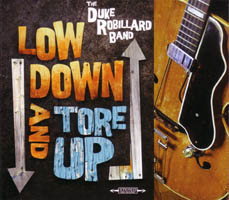 LOW DOWN AND TORE UP- Duke Robillard's latest, rousing and rocking offering is a welcome return to and affirmation of Duke's grittier blues roots and early influences.
---
Advertisement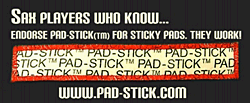 No more sticky sax pads!
PAD-STICK... a simple device made of untreated cotton, stiffened with a nylon interior, for the purpose of cleaning off crud and moisture from sax pads and toneholes. The resolution to a sticky situation.
Click here for more info
.